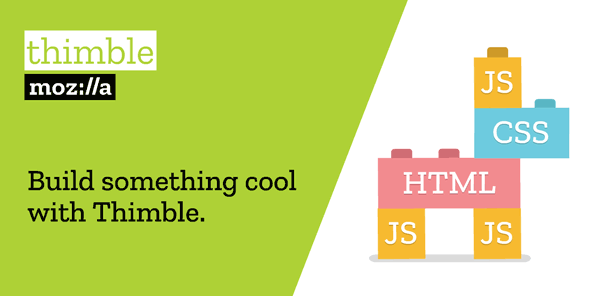 Mozilla Thimble Gets a Makeover
We're introducing major upgrades to our educational code editor
Learning to code—from getting the hang of HTML tags to mastering the nuances of JavaScript—shouldn't be a challenge. It should be fun, intuitive, hands-on and free of cost.
That's why Mozilla built Thimble nearly five years ago. Much like Firefox enables users to browse the web, Thimble enables users to learn the web. It's our browser-based tool for learning to code.
Today, we're proud to announce Thimble is getting a makeover.
We're introducing a suite of new features to make learning and teaching code even easier. Why? When more people can shape, and not just consume the web, the Internet becomes a healthier and more egalitarian, inclusive and funky place.
Thimble has taught hundreds of thousands of people across dozens of countries. It's been localized into 33 languages, and used in classrooms, at hackathons and at home. Thimble has also proved to be more than an educational code editor—it's a creative platform. Thimble users can create personal webpages, comic strips, post cards, games and more.
And in true Mozilla fashion, Thimble is an open-source project. Many of those who learn to code with Thimble later return to offer tweaks and upgrades. Over 300 contributors from dozens of countries help build Thimble. Learn more about them here.
New Features
JavaScript console. Users can now debug their JavaScript projects within Thimble. It's a simpler experience than the browser console, which can be cluttered and intimidating
Code snippets menu. Access a handy menu populated with HTML, CSS and JavaScript snippets. Creating content just got easier
'Favorite' feature. Bookmark, organize and easily access projects you're currently working on
Edit SVG image code directly. You can now change properties of SVG images—like fill and stroke color—within Thimble. No need to use an external editor or image software
Tajik language support. Add one more language to Thimble's repertoire: Tajik, which is spoken in Tajikistan and Uzbekistan
Plus more, like an upgraded color picker; visible white space in code; updated file icons; an improved homepage gallery; easier file import and export mechanics; and the ability to disable autocomplete
Mozilla owes a debt of gratitude to the network of developers, designers, teachers and localizers around the world who made these upgrades possible—more than 300 contributors from 33 countries, like Brazil, Turkey, China and the UK. Their commitment to web literacy and open-source software makes the Internet healthier.
Now: start coding.