In the countdown to Firefox Quantum, every millisecond matters to Selena Deckelmann
Website pauses, hangs, refreshes and weird jank. If you've ever experienced these while browsing the Web, Selena Deckelmann, Director of Firefox Runtime, feels your pain. Her team of 80 software engineers sweats the details of Runtime, the part of Firefox's hidden infrastructure that interprets a website's code and makes it show up in your browser. That might sound straight-forward, but it's highly technical engineering work. Every website in the world is built just a little differently, and the Runtime team knows that if a site shows up funky for Firefox users, some of them will rage quit and blame the browser.
"Runtime is about performance. It's sink or swim for us," Deckelmann said. "We came to a point where we had to really focus on fundamentals, identify exactly what was hurting our performance and execute on fixing it. It wasn't easy. A lot of engineers — hundreds — have been doing a lot of intense work for over a year now."
/ / / / / / / /
A MASSIVE SWIRL OF TINY BIRDS fills the dusk sky over Portland's Chapman Elementary School as thousands of Vaux's Swifts gather to roost for the night while on their fall migration. Sitting on the hillside beside the school amid a crowd of other bird watchers, Selena Deckelmann and her family are mesmerized by the winged display. The birds flit and dive, forming a clockwise spiral that funnels, bird by bird, into the tall brick chimney. The crowd ooohs when lurking Cooper's Hawks swoop in to snatch an unsuspecting Swift out of mid-flight. The scene overhead is fast-paced, organized chaos, not unlike how Deckelmann finds life at Mozilla.
"There's a wonderful thing about working for this place. There's openness to leadership coming from anywhere in the organization. It doesn't have to be someone who has any particular title," she said. "Sometimes that can feel a little chaotic to people who are not accustomed to it. But I like it."
The engineers on her team have been responsible for leading performance improvements at the foundation of Firefox over the last year, painstaking work that is paying off. With the countdown on for Firefox Quantum's public launch in November, the browser's performance is noticeably faster. Deckelmann admitted there was skepticism that the team would achieve their performance goal of 20% parity with Chrome on Speedometer. To get there, the Runtime team took on old, low-priority bugs, ones that didn't look like they would have clear, immediate impact. Fixing any one of them wouldn't likely make a significant performance difference, but fixing many of them would.
"When it comes to performance, there's a tendency to look for silver bullets, and we did find a few of those up front that took big bites out of the goal," said Dave Camp, Senior Director of Firefox Product Engineering and Deckelmann's boss. "But one of the things that I'm most proud of is how Selena's team jumped in together and closed 420-some bugs."
They shaved a millisecond here, a millisecond there but the Firefox performance graph hovered at 25% for weeks, below the goal mark. And one day in August, performance crossed over into the green. It was a huge moment in the making.
"There wasn't one heroic protagonist who made it all happen," Deckelmann said. "It truly was all of these individuals chipping away at a huge problem. I think it's incredible that our organization took on a problem as huge as our performance."
Since August, Firefox Quantum has been in the hands of early adopters in the pre-release editions, called Firefox Nightly and Beta, so that Mozilla engineers can get valuable, real user feedback and continue to improve performance. In September, Firefox Quantum shifted to the Beta version, one step closer to a mass release to the general user base. Reception has been positive and the numbers are trending up, giving morale a boost and strengthening momentum behind the launch.
"In my life, this is one of the most exciting transformations in a piece of software that I've ever seen," Deckelmann said. "These are some of the best people I've ever worked with. They are all making the web better. That's why I came. Everybody here really believes in open source as an important tool for change and good in the world."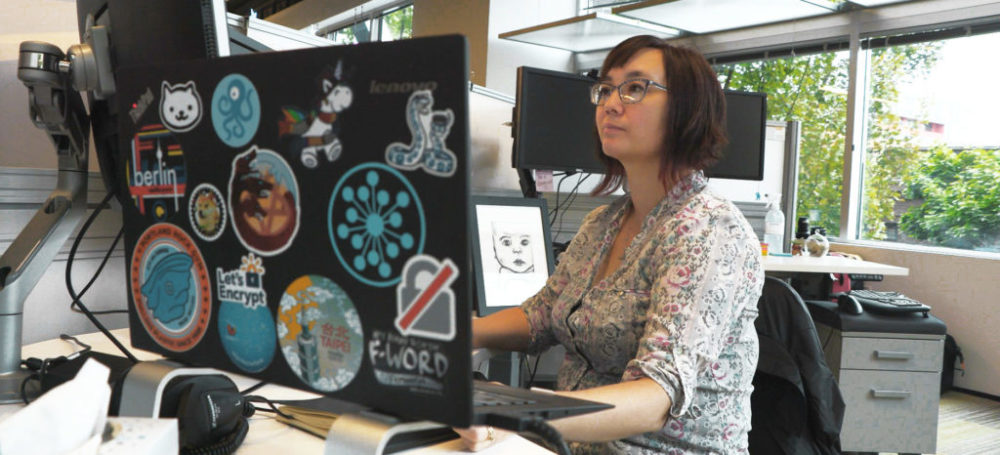 A hacker in the making
Deckelmann didn't set out to have an impact in technology. At the University of Oregon, she declared chemistry as her major, "a cover" for her secret, would-be future as a violinist. Like many students, she also held a part-time job. Hers happened to be at a Dunkin Donuts shop, to the consternation of a housemate who got tired of smelling donuts every day. He suggested she check out an opening at the university computing center where he worked. The job was a turning point. She took to the work, helping people with software installations, virus attacks and hardware failures. Along the way, the college open source community welcomed her into the fold. She eventually built her own computer and worked her way up to being a systems programmer for one of the university staff developers.
"I had this idea that I was going to be a Linux Kernel hacker," she said with a smile. "That was my life goal at the time."
Switching majors to computer science was the next logical step, and initially she didn't notice how few women were in the CS department compared to chemistry.
"I had the experience in college of going to a conference for system administrators and having a woman run up to me and say 'I haven't seen any other women here. You're the first woman I've ever seen.' It was a really weird moment," she reflected.
The experience opened her eyes to advocating for more deliberate inclusion, and urging conference organizers to make it clear that women and minorities are not just tolerated, but that they are explicitly wanted at events. A "geek feminist," she has long been a proponent of anti-harassment policies and codes of conduct for conferences, talks and gatherings as a signal for clear community standards. For five years, she also advised the Ada Initiative, an organization (named after Ada Lovelace, the world's first computer programmer) that was dedicated to supporting women in open technology and culture.
"Women in our industry are busy. They're very accomplished, and most of them don't live in Portland," she said. "But those of us who do similar work in open source know each other, even if we're in different places." Deckelman worked hard to track them down and develop relationships, something she recommends all women in the field do. She tossed out a quick list of women that she counts as inspiration: Anne Herz, Audrey Tang, Laura Thomson and Valerie Aurora, to name a few.
"A huge motivating force for me is being able to work with other women," she said. "Changing the system is what drives me to take leadership roles. I want more women to want to work in tech, and especially here at Mozilla and on open source. As flawed as open source is, I think it's better than the alternative."
Taking it on the Roadshow
Since joining Mozilla in 2012, Deckelmann held a variety of roles including crash data analyst and security engineering manager before becoming the Director of Runtime. Still, she often finds herself as the only woman in meetings, and she'd like to see that change.
"It's not that Selena is our first female engineering lead, but she is the first woman in upper management in the product engineering org," Camp said. "I'm happy about that. Having more women contributing is a priority for everyone at Mozilla and everyone on the Firefox team."
Over the summer, Deckelmann joined Mozilla's Developer Roadshow, a traveling event where expert speakers highlight the latest and best in Mozilla and Firefox technologies. This was her first time out on the roadshow, which was making stops across Seattle to visit with Microsoft, the University of Washington and an informal meetup group in the Pioneer Square neighborhood on this warm Thursday night in August. Deckelmann walked the crowd through the work and achievements of the Runtime team. She dished an alphabet soup of techy acronyms, moving deftly through questions about networking traffic, scheduling algorithms, taskcluster and event queues. Women comprised half the audience, a striking contrast to prior events where the majority of attendees were men.
"People came from all over because of Selena," said Sandra Persing, Senior Program Manager who runs the roadshows. "They thanked us afterward, telling me they had driven several hours for the event, saying 'I have never seen a woman director of engineering.' That feedback makes us wake up and realize that someone like Selena is still rare, and she makes such an impact on the technical community when she's out there."
/ / / / / / / /
AS THE SUN FINALLY SETS over Chapman Elementary, the last swifts dart into their roosting spot for the night. Deckelmann's family giggles together, imagining the scene inside the chimney as thousands of birds find space to huddle in harmony. Early the next morning, she'll be up to feed her backyard chickens before returning to the whirlwind of Firefox engineering.
"People at Mozilla are really invested. Companies that inspire that kind of loyalty, that kind of trust… it is something that makes work amazing, not just worthwhile, but really fulfilling and worth spending your time on," she said. "I feel a lot of responsibility for it to be a good experience, and I value the trust they put in me."
---
The new Firefox is here
The internet waits for no one, including you. Powered by a new, cutting-edge engine, Firefox has doubled its speed from last year.
Get the new Firefox. Fast for good.