How would you devise a marketing plan for Mozilla?
This was the business problem that Jakob Marovt and a group of other students recently tried tackling.  Jakob is a student in Slovenia at the University of Ljubljana, Faculty of Computer and Information Science.  His Mozilla project came about earlier this year while studying abroad at University of Southern Denmark, Faculty of Engineering, department of manufacturing and management.
I recently came across Jakob's weekly presentations and final plan and I was impressed.  It's not often that a student project leads to such a thorough and accurate understanding of an organization/community.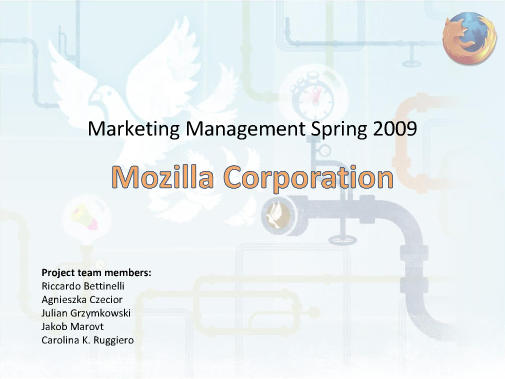 I followed up with Jakob and asked him about the biggest challenge they encountered or key insight they arrived at.  Given that their assignment called for utilizing frameworks/strategies/tactics within traditional marketing theory (porters five forces, swot analysis, etc.), Jakob noted that one challenge was having to fit Mozilla's recommended actions within a more mass media and less internet/social media approach.
Great job!