Hello everyone! My name is Amy and this is my second week on the AMO team as an Add-ons Community Manager. I'm here to make sure you have a great experience on AMO, so feel free to send me feedback or ask questions. If I don't have the answer, I will try to track down someone who does!
It's push day, and there are two new features we'd like to highlight:
Improved Stats Dashboard
The dashboard is now faster, easier to use, and better looking:
More data at a glance: we added three charts displaying popular stats that used to require multiple clicks to reach—most-used applications, most-used languages, and most-used OSes.
Better performance: we migrated the dashboard from PHP to Python as part of a larger AMO initiative, and the move has improved load times. We focused on moving the major features, and may migrate more features in upcoming releases. If there is a feature in the old dashboard that you think is critical and it isn't available in the new dashboard, please let us know.
Redesigned interface: we updated the look and feel of the dashboard to make it more visually pleasing and easier to read.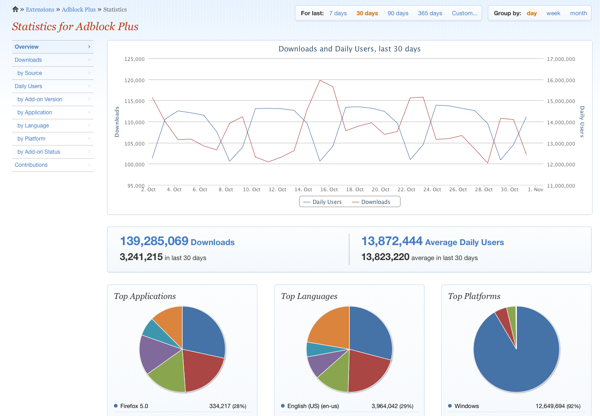 See the improvements in action here.
Ajax Search Results
We've made it faster and easier to page through search results using Ajax. Rather than load new pages as you browse through results, new results are shown in-line.
Auto-detect filtering: we automatically detect your Firefox version and operating system and show you the filtered results.
Collapsible sidebar facets: choose additional filtering parameters in the sidebar and see new results in-line.
Shortcut keys: on any search results page, simply use your left and right arrow keys to toggle between pages.
See the search results page in action here.
Please give the new features a spin and let us know what you think!