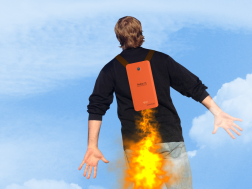 You may have wondered who this "Scott DeVaney" is who posted February's featured add-ons. Well it's me. I just recently joined AMO as your new Editorial & Campaign Manager. But I'm not new to Mozilla; I've spent the past couple years managing editorial for Firefox Marketplace.
This is an exciting deal, because my job will be to not only maintain the community-driven editorial processes we have in place today, but to grow the program and build new endeavors designed to introduce even more Firefox users to the wonders of add-ons.
In terms of background, I've been editorializing digital content since 1999 when I got my first internet job as a video game editor for the now-dead CheckOut.com. That led to other editorial gigs at DailyRadar, AtomFilms, Shockwave, Comedy Central, and iTunes (before all that I spent a couple years working as a TV production grunt where my claim to fame is breaking up a cast brawl on the set of Saved by the Bell—The New Class; but that's a story for a different blog.)
I'm sdevaney on IRC, so don't be a stranger.