Continuing our examination of the user's experience at the moment they click the Firefox download button, we now turn to an analysis by region (previous OS breakdown, browser breakdown).  How does the experience of a user in the U.S. compare with the experience of a user in India? or Malaysia? or Lithuania? or Mexico?
Let's first look at the overall geo breakdown of those who clicked the Firefox download button on January 13th (at the mozilla.com home page or main Firefox product page).
Even though U.S. users represent about 28% of the Firefox user base, that 62% slice of the pie seems intuitive due to our numerous localized Mozilla sites.  A few countries did surprise me… if you asked me beforehand, I probably would not have guessed that Vietnam, Singapore, Indonesia, Malaysia, Romania, and the Philippines would have appeared in the top 12 (out of 100+ regions worldwide).
Next, let's investigate the experience of each segment above.  Of those clicking the Firefox download button, how many actually receive the full and complete data (installer file) and how many do not?  Due to some small regional sample sizes (of those visiting www.mozilla.com to initiate download), we decided to look at this breakdown by continent (you'll also notice that South American and Africa were left off due to their sample sizes).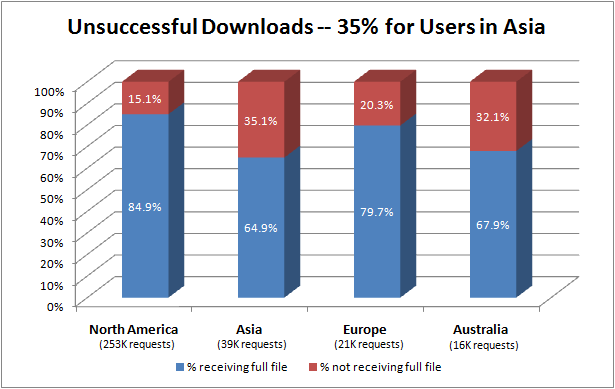 The significant red areas above for both Asia and Australia are concerning.  If a user clicks the Firefox download button, we should expect him/her to receive the installer.  The 15% to 20% unsuccessful rates for Europe and North America can be understood, as there will always be some issues in the process of downloading a piece of software (e.g., inadvertent clicks, internet connectivity issues, etc.).  We also need to give more thought to the internet experiences of users in regions such as Asia and to the broader software/download landscape in such regions to see if there are outside factors that could be at play here.
There's much for us as a community to consider here.  Our hope is that this discussion will spur a more in-depth discussion about the experience of new Firefox users in particular regions and what improvements/changes could be undertaken.