Installing a piece of software can be a challenging process for the typical person to traverse.  For example, with Firefox, we know that each day there are more than 50,000 people who fall into the following group – they complete the download process (receive the full data/file), but don't then complete their installation of Firefox.
We feel we have a moral imperative to figure out what's going on here.  Doing so provides us an opportunity to both add to the general knowledge base of the software industry and make significant strides in the Firefox user experience (and to boot, improving Firefox adoption rates isn't a bad auxiliary outcome).
So, let's start by outlining the exact steps that a software user needs to traverse after a successful download:
Does a user know they need to install?
Does a user remember where he/she saved the file?
Does the user open/run the file and avoid hitting "cancel" during extraction?
Does the user make it through all steps (either 3 or 6 steps in the case of Firefox) of the installer without hitting "cancel"?
Thanks to an important initiative launched last week, we're now able to put some framework and answers around these questions.  On Thursday of last week, we shipped a modified version of Firefox with a different installer (en-US*Windows only for a single day), allowing users to leave feedback when canceling out of the installer.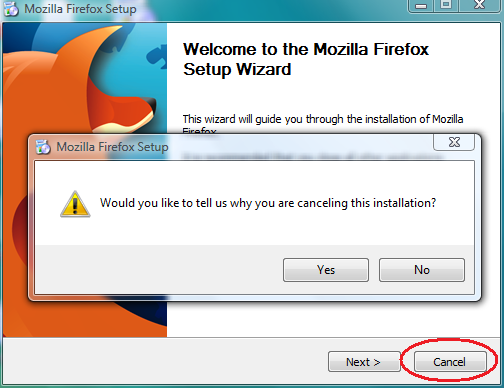 Based on the results (coming in a follow-up post), we know that of our original cohort of 50,000 people, approximately 10,000 users fall under category #4 outlined above (i.e., they click on that cancel button).  That means steps #1-3 describes the experience/actions of about 40,000 people.
Thinking in terms of big picture implications, there are some possible installer changes that we can consider to remedy the issues encountered via the installer itself.  Perhaps more paramount – what can we do to help users from steps #1-3?  Content and design of the Firefox download page?  Any other ideas?
To be sure, any action that we take here could be wildly impactful.  Improving the experience for just 2,000 or 3,000 people from our original cohort would translate into upwards of 2,000,000 additional Firefox users annually.