When we first started talking about the Firefox Uninstall Survey last year, we introduced it with this:
The world of Mozilla includes many Firefox related feedback mechanisms.  Crash reporting, bugzilla and spreadfirefox.com represent a few such examples.  Another feedback mechanism is the Firefox uninstall survey.  When a Firefox user (Windows XP only) decides to uninstall their browser, they're asked if they want to complete a survey during the uninstall process.

Often a user is merely temporarily uninstalling before immediately reinstalling.  However, in some cases a user enjoys a seemingly less than optimal experience with Firefox, and in these cases, it behooves us a community to figure out what's going on and if there are true pain points that the user is experiencing (and perhaps that we're not aware of).
From there, we eventually highlighted some key steps moving forward, including revised questions and design, along with more usable/insightful/actionable data and reporting.  Fast forwarding many months, we finally implemented the new survey this past Friday.
The old survey:
The new survey (with thank-you page):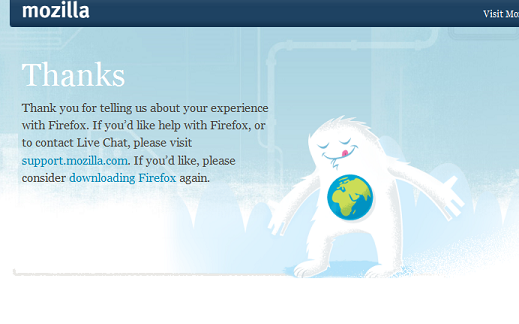 Here are a few implementation details:
We've embedded a SurveyGizmo survey within a www.mozilla.com page.  This allows us to do two things – (1) update the look and feel of the survey, and (2) have a reporting engine that will be useful and usable.
Since the survey first came into existence back in 2005 or 2006, all of the data and responses have always been available publicly (at survey.mozilla.com).  The problem was the data wasn't always fully up-to-date and it wasn't available in a friendly format.  We're currently looking at options for making the new reporting from SurveyGizmo both user friendly and publicly available.  More details to come very soon!
Thanks to Fred Wenzel, Blake Cutler, among many others, for making this happen.
Lastly, let's not forget why this initiative is so critical.  With tens of thousands of users telling us why they're uninstalling Firefox, the Firefox team and the broader community should now be able to arrive at several key insights around usage pain points… insights that will ultimately drive user experience improvements… improvements that will eventually impact tens of millions of Firefox users.