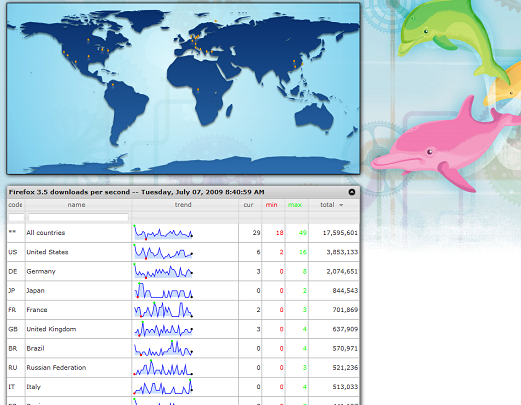 Firefox 3.5 launched just one week ago.  It looks like it's been an incredible success thus far, so we thought we'd offer up a few high-level metrics.
Market Share – from a couple different sources, we've seen the worldwide market share for Fx3.5 hit the 4% mark.  Real-time tracking is still available at whos.amung.us.
Downloads – At the one week point, cumulative downloads for Fx3.5 have surpassed 17,000,000.
So, how are we supposed to interpret this number?  I think it's safe to say that not many pieces of software have ever seen more than 10 million consumers make the conscious decision to download within a single seven-day period.  For some historical perspective, I've charted the cumulative download counts for Fx1.5, Fx2, Fx3, and Fx3.5 within the first week of their respective releases.  The key thing to keep in mind here is that all of these numbers are gigantic in scale (and the Mozilla community has also grown a lot in the past four years).