One of the ways Firefox users can easily and directly contribute to making the browser a better product is through our Help->Report Broken Web Site feature:
This allows users to let us know if they experience problems with Firefox on specific websites. Let's take a high-level look at this "Broken Site Reporter" data over the past few years:
These numbers are significant.  Each day, over a thousand Firefox users are showing us pain points they have experienced while surfing the web. This sort of feedback can be wildly impactful for internet users everywhere.
A few things to note:
The reporter started with Firefox 2.0.
The reporter was down for about 2.5 months (6/25/08 – 9/9/08)
We can see a BIG spike for the 3.0 launch in June '08 and a less pronounced jump for the 3.5 release in June '09. The reports are trending upwards as our daily usage grew over this period, but it would be more telling to look at a direct comparison between daily users and daily broken site reports:
This view of the data conveys some good news. Just looking at the chart, it seems our daily usage and daily broken site reports are diverging – meaning we are getting fewer reports per user on average. Here are two more views revealing this information: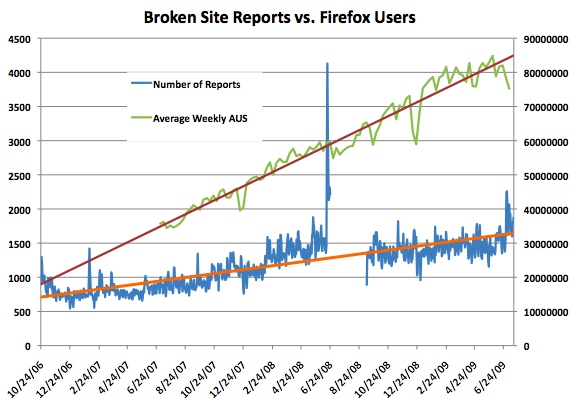 The chart above shows two Ordinary Least Squares (OLS) regression lines tacked onto our original graph. The linear regression lines are clearly diverging – more evidence that we are getting fewer reports per user.
Since July 1st, 2007 our daily reports per 100,000 users figure has decreased from about 2.5 to 2 (a fall of 20%).
I think it is safe to conclude that daily usage is pulling away from daily broken site reports for two main reasons. The first is that the web has improved – websites users navigate to are more likely to function correctly in any browser. The second is that Firefox is a better product today than it was in July 2007. Either way we look at it, the major win is that Firefox users are seeing fewer and fewer broken websites.
In parts II and III of our Reporter analysis (coming soon!), we'll be looking at the types of problems reported by users, where these problems occur, how problems with websites on Firefox have evolved over time, and what recommendations could be made for improved user experiences moving forward.