As mentioned a few days ago, we saw a massive impact to the Firefox new user experience with a recently implemented change to the Firefox installer.  A problem previously encountered daily by thousands of new Firefox users completely vanished with a single change.  We now want to share a few more details and suggest one or two additional changes moving forward.
First up, let's look at the distribution of users' comments — by step — in the Firefox installation process, i.e., on what step were they on when hitting the "cancel" button (a visualization of these steps is shown here).  The screenshots below come courtesy of Kampyle, the start-up who helped us with this initiative.
THEN (late March):

NOW (last week):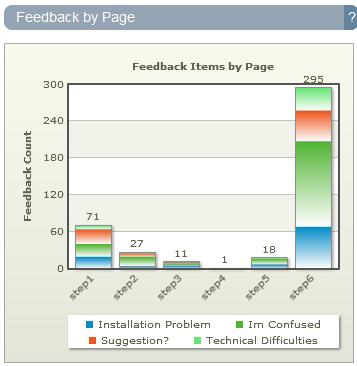 The difference between these two pictures is night and day.  A couple things stand out:
As mentioned above, our fix successfully resolved the directory problem that users were primary encountering in Step #3 of our installer ("Choose Install Location")
There is now a very high concentration of people canceling out of the installer at the final step in the process (Step #6, aka "Summary")
Looking at the actual comments from users canceling out of the final step, about 75% are related to the zombie process problem (a workaround solution is in the works), about 20% are people expressing their unhappiness over Firefox becoming their default browser, and about 5% fall into an "other" category.  You'll recall that those two issues were the top issues highlighted by users overall.
What's up with people commenting on Firefox becoming their default?
It's a simple option to check or uncheck as desired, right?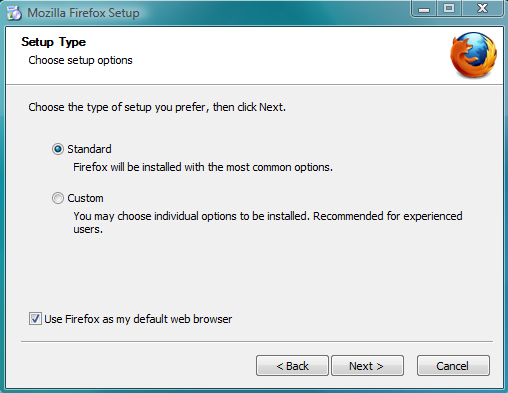 Diving into the comments reveals something critical.  All of the people making this comment are doing so on the "Summary" step (or final step, below), not on the earlier "Setup" step (above).  Clearly, many new users are overlooking the checkbox, and just seconds later, are unsure as to how to install Firefox as their non-default browser.  And the outcome here is poor – the person is frustrated and refuses to install Firefox.
What fix should we consider here?  Should we make the checkbox more prominent on the "Setup Type" step?  Should we include instructions (e.g., "simply hit the back button to change") on the "Summary" step?
Thanks to Rob Strong, the Funnelcake team, and the folks at Kampyle, among many others, for making this ongoing initiative a success.