Late last week, Mozilla pushed a Firefox 3.6 upgrade offer to people on older versions of Firefox.  Here was the actual offer: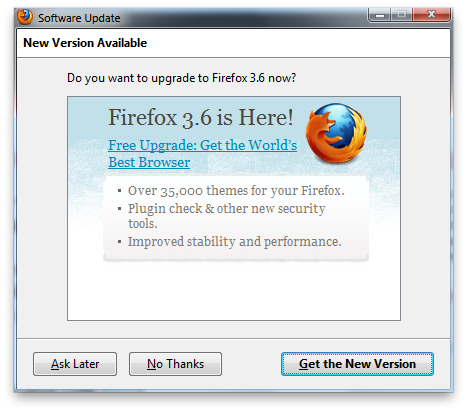 What has been the impact in just a few short days?
Looking at the chart below, you'll notice that the percentage of all Firefox users on Firefox 3.6 increased dramatically in recent days.  Late last week, the percentage of users on 3.6 stood at roughly 23%, and as of yesterday that number had climbed to 43% (btw, that 20% pick up translates to roughly 75 million total people who made the switch — that's huge!).  Past major update offers have generally converted in the ballpark of 10% to 20% of users, so this most recent push has definitely had a substantial impact.
And below is one further way to interpret these recent numbers.  Looking at the launches of Firefox 3, Firefox 3.5, and Firefox 3.6, we considered how quickly each latest & greatest grabbed usage share from its predecessor.  You'll notice that the shapes of the 3.0 and 3.6 curves (blue and green) look almost identical… the only difference being the timing of the first offer/advertisement being pushed (note: there was an issue with our early 3.5 update offers, hence the red curve seems to be missing the same upward spike).