Firefox puts you in control of your online life and puts everything you need in a personal and customized Web experience. Now, we're making it easier to experience and share everything you enjoy on the Web with video calling, social sharing and Web apps integrated directly into Firefox.
Firefox integrates three new features directly in the Firefox toolbar or in Customize Mode: Firefox Hello (the first global communications system built directly into a browser), social integration to easily share content with your friends and family through your favorite social sites in one place, and Firefox Marketplace Beta to test Web apps.
Firefox Hello – A simpler way to communicate
Recently, we introduced Firefox Hello, the first global communications system built directly into a browser to make it easier and more privacy friendly for you to have voice and video calls online.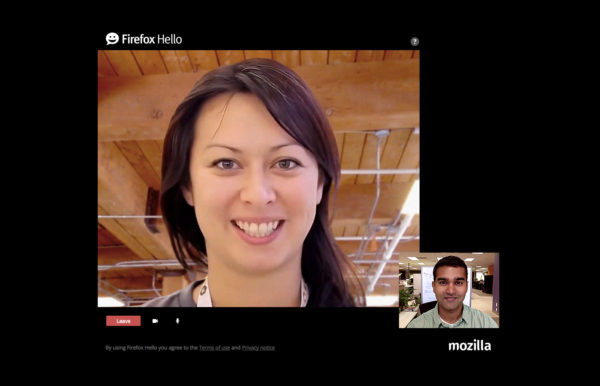 Conversation window in Firefox Hello
Firefox Hello is free to use, doesn't require you to sign up for an account and allows Firefox users to connect to anyone, anywhere in the world so long as they have a WebRTC-enabled browser such as Firefox, Chrome or Opera. Before Firefox Hello, making a video call meant giving up your email address and possibly more personal information as well as downloading software before you could start the conversation.
Now we're making it even easier to say 'hello' by eliminating some of the call steps and allowing you to save and name your favorite conversations, so you can drop into them as soon as you click a link. Find out more about Firefox Hello here.
Firefox Share – Share the Web through all your favorite social networks
We're integrating all your favorite social networks in Firefox and giving you a single site to activate your social networks and make it even easier to share Web content without having to leave the website you're visiting.
To add "Share" functionality in Firefox: visit the Share Activation page and click on the Activate Now link for any social network you wish. Some of the social sites that you can connect with include Facebook, Twitter, Tumblr and Google+.
Firefox Marketplace Beta – Help Test Apps
Firefox Marketplace Beta is now open for testing on the desktop on Windows, Mac and Linux. Firefox Marketplace Beta is built on open Web technologies to give developers and users the flexibility of creating and consuming consistent and connected app experiences across platforms. Visit our support page for details on how to use Firefox Marketplace Beta.
For More Information: