This event is part of Mozilla Labs DemoParty, an initiative to foster artful exploration of web technologies.
Demoparty hits India / Pune
We're excited to annouce that Mozilla India is arranging a DemoParty in India, Pune on June 25th. This is especially cool, because it's probably even the first DemoParty in India – Serious culture exchange *smile*
Join Mozilla India for a full day + night of open web (aka HTML5) demo hacking, food/drinks! An artful exploration of open web technologies, in the tradition of the Demo Scene.
Attend hands-on HTML5 workshops and collaborate with hackers and artists till late night or even the next day to take home the evenings Demo Party Award.
or view the post on mozillaindia.org
Contact the organizers: @vineelreddy, @GalaxyK, @tbx, or via email: pindivineelreddy (att) gmail.com, bubblyguy (att) gmail.com or tobias (att) mozilla.com
Hashtags #demoparty #mozindia
Example Single Effect: WebGL Particles Demo by Cedric Pinson
Here's another pretty example of a "single effect" demo by Cedric Pinson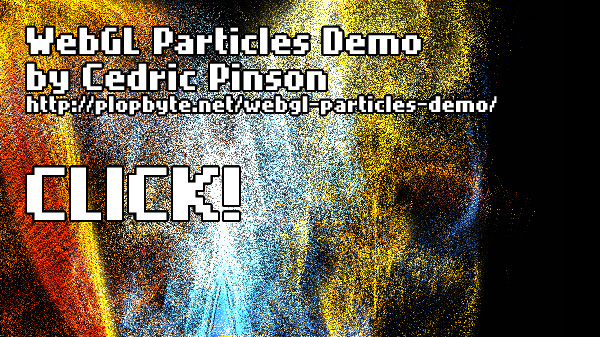 Or view the video capture: