We are getting lots of support requests for finding replacement extensions in the comments section. We can provide better support for this in the forums, so we are shutting off comments here. This thread is where you can see what the community has already suggested, as well as post your own support request.
If you're a Firefox 57 user (aka Firefox Quantum, released November 14) with legacy extensions installed, there is a feature to help you find compatible replacements.
In the Add-ons Manager (Tools menu > Add-ons), click on "Show legacy extensions" to see a list of your incompatible extensions.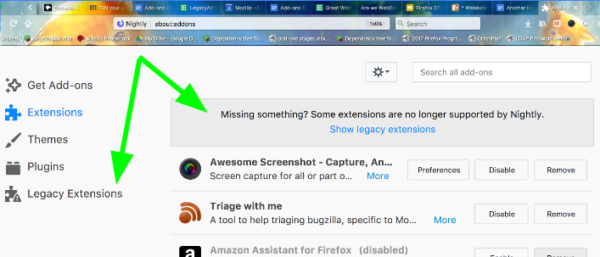 Click on "Find a Replacement", and you will be taken to the AMO page of a compatible alternative.
If an exact replacement hasn't been identified, you will land on the Featured Extensions collection, which lists only compatible extensions.
For legacy tab extensions that couldn't migrate at this time because of unavailable APIs (some of which are being developed and prioritized for release in the coming months), the "Find a Replacement" button directs you to a curated collection of compatible tab extensions.
Not Too Late to Migrate
For developers of legacy extensions who may be in the process of migrating, or have plans to do so in the future, please note that once your extension is compatible, your users will no longer be prompted to find a replacement, and your current users will automatically get the updated version.
So you may still want to update to the WebExtensions API, even if you didn't get it done in time for Firefox 57. For more information on how to migrate legacy extensions, please see this guide.
If You Need Them a While Longer
We understand that some of you won't be able to find replacements for your legacy extensions. If you want to use them a while longer while you wait to see if they will be updated by their developers, your best option is Firefox ESR 52. This release is updated for security only, and should work with legacy extensions until the release of Firefox 59, which will also update the ESR release to Quantum.