Today we are officially opening our Live Chat support to users of Firefox. Users who can't find their answer in the knowledge base or the forum can now get real time help troubleshooting their issues with more skilled Firefox users.
When a helper is logged in and ready to help Firefox users, the Live Chat page will show the following, friendly Foxkeh: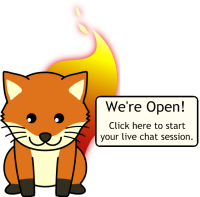 If no one is available to help users out, this image will be shown instead:
Opening hours
We've set 3 hours a day, Monday through Friday, when our current volunteers can commit to being online to take questions.  As more people can commit to being around at other times, we'll expand our hours.  This is when we encourage new volunteers to help, but you may find someone available to help at other times — we just can't promise it yet.
You can be one of those Firefox experts!
In order to provide 24/7 coverage so our users never have to see the "We're Closed" Foxkeh, we need more Firefox helpers.  You don't need to be an advanced user, or have experience giving support to help out.  Most of our helpers (and many of Mozilla's community of developers) started out as Firefox users who had a question themselves.  Many questions asked will already be covered in the knowledge base or the forum, and they either couldn't find them or just need help going through the steps.  Our software lets you talk to other helpers, and even invite someone else to help you give support if you get stumped.  A good attitude and some patience is really all you need, and soon you'll be an expert. Who knows, maybe you will end up being a Mozilla developer as well?
A big thank you goes out to Lucy, the SUMO team, Nelson, morgamic of WebDev, and oremj, aravind & mrz of IT for making this happen! Thanks also to all the people who helped us test the software before the launch. Last but not least, to the community of helpers out there already available to help users of Firefox: without you guys, this effort would have been completely fruitless. You rock!