As you know we are working hard to make the L10n tools at SUMO better,
and since we already have some amazing improvements, it's time to celebrate!
The celebration weekend will be a lot of fun, the idea is to translate, update and review as many articles as possible.  This will help us to be more up to date and also to test the new tools and know how they work. And the best part is that the three most active localizers this weekend will get a super cool lego SUMO warrior!
So join us to celebrate and test the new tools!  As soon as the project is complete we will update you with all the changes we did. But for now check out this amazing selection:
Unreviewed changes? Someone else editing the article? We will warn you!
Woohoo, you will no longer edit an article just to realize afterwards that there were already unreviewed versions, or that someone was just editing it!
You want to keep track of all? Subscribing to email notifications is now piece of cake!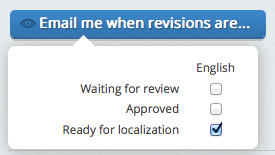 You want to know when an article is waiting for review, is approved or ready for L10n? Just subscribe to the email notifications, now very easy to find on the dashboard.
.
New article version, what is it about? Know what changed in the article upfront!
When an article changes the editor will briefly comment what changes they made. This will help you to understand the scope of the translation right away!
And now we also have the history of changes for the keywords and summaries.
New intelligent diff tool!
This time our developer went the extra mile to get us a brand new diff tool! What's so cool about it?
Sentences are numbered, making it super easy to find the sentence you're working on.
Now you see exactly what changed in a sentence and don't have to compare the whole sentence but can immediately see what changed!
You have all information in one place! You no longer need to look at two columns to find out what changed, but have all the changes in the same column. It's easier to find the information quickly.
The new diff tool will also show you your edits before you submit them for review, so you're sure everything is as you wanted!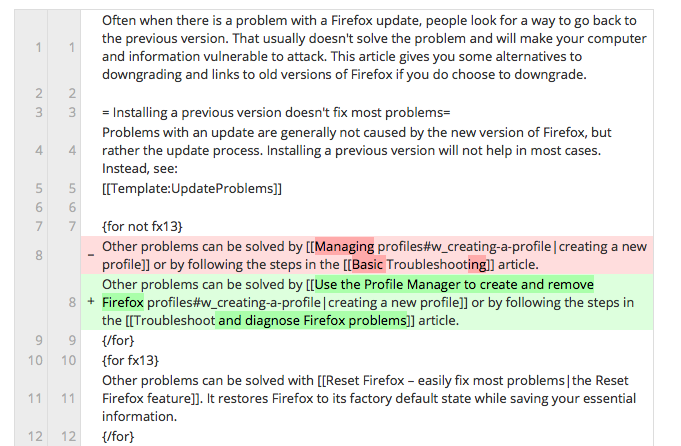 New text editor with super magic syntax highlighting!
If the new diff tool is amazing, the new text editor is just incredibly awesome! Our amazing contributor Tobbi developed this great feature that will allow us recognize what is wiki markup and what is actual text. This is not only amazing for experienced L10n contributors, but incredibly helpful for new contributors. And the cherry on top are the line number! So Thanks Tobbi for this incredible contribution!

As you see, we have a lot to celebrate, so join us, edit, review, update and translate with us this weekend. Go SUMO warriors!