Recently, there's been some discussion on our position regarding the Fat Plug ad platform and our editorial policy that prevents its inclusion in our add-on directory.  Since we believe that sustainability is a key component of a vibrant software ecosystem, it's important for us to clarify our position for both add-on developers and end-users.
AMO is a directory of add-ons which meet our requirements for user experience, security, and code quality.  These add-ons are selected based on criteria consistent with our values as a public benefit organization dedicated to improving the internet.  Since listing is not a prerequisite for distribution, any add-on can be distributed without any involvement from AMO or Mozilla.
The Fat Plug business model
Fat Plug is a component that gives Firefox add-ons the ability to both insert new ads and replace existing ads on virtually any website.  The model involves including this component in successful Firefox add-ons, to use this success to 'bootstrap' advertising in web content to be shared between Fat Plug and the add-on author.  Since add-ons incorporating Fat Plug are largely unrelated to online advertising, it is difficult for users to discern that changes to web content has occurred, and nearly impossible for them to determine the connection between their altered web content and the add-on they installed.
The only indication that a user has installed Fat Plug is a Terms of Use dialog.
These Terms of Use are written on behalf of the original add-on, with only the fine print broadly describing what Fat Plug does.  There are no links or plain English descriptions of how this feature works, nor does it set expectations with users on what content gets changed. If the user declines the Terms of Use, the add-on is disabled.
Here are some examples to illustrate the Fat Plug functionality.
On search engines, Fat Plug inserts text advertising.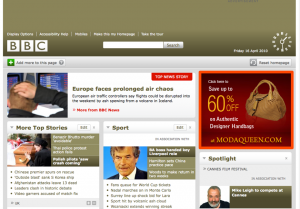 In this example, Fat Plug has replaced a BBC ad unit with one of its own.
This model relies on being bundled as a component on an otherwise attractive add-on, as it's unlikely that a user would elect to install an add-on that does nothing but insert additional advertising into pages.  Since this functionality shares information with an invisible third party, is undesirable, and undetectable for all but the most advanced users, it is a violation of our
No Surprises
policy.
User choice

We believe that users have the right to control how they view content on the internet.  Add-ons allow users to remix and adapt the web according to their own needs.  Because these add-ons are entrusted with the ability to alter web content and access web services, it is important that users understand the intent of the add-ons they install, and that these add-ons adhere to a policy of informed consent.
Developer control
One thing that we'd like to make clear is that we aren't preventing the development or distribution of Fat Plug add-ons.  We've made an editorial decision to exclude these add-ons from our directory, one that we believe is in the best interest of our users and developers.  Any add-on that uses the Fat Plug platform can be distributed separately from AMO, and we know that many add-ons distribute themselves without the involvement of AMO or any related Mozilla websites.
Commercial add-ons

We believe that a healthy add-on ecosystem reflects the internet as a whole- with both commercial and non-commercial elements.  It is often the interaction between the two that results in disruptive innovation, and we'll continue to support this.  Add-ons with advertising are not prohibited on AMO, but we ask that this advertising is clearly marked and clearly associated with an add-on.  We also believe that add-on developers deserve to benefit directly from the success of their add-ons.  Plans for an add-on marketplace are underway, and we will communicate this plan in detail in the next couple of months, well in advance of its implementation.