It is common for software installers to include add-ons that are installed into Firefox and other browsers. Since software installers can often be confusing and most users click through them without reading, we introduced the opt-in install screen to make it clearer that an add-on was being installed into Firefox as part of the application install process. This gives users another opportunity to understand what is going on and make an informed choice.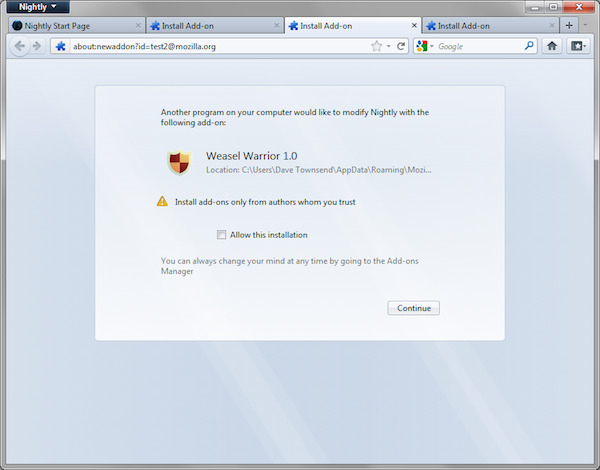 We want to clarify that, from now on, there are only two acceptable ways of installing add-ons into Firefox:
Web install. Users are presented with a page that has an install button or link that they need to click on their own in order to initiate the add-on installation.
External install. The add-on is installed through the Windows Registry or a global install location, triggering the opt-in install screen. It is forbidden to tamper with this install screen, including overlaying images or text on top of it or anywhere near it.
There are two differences between this and previous policy. First, we used to allow a hybrid install method where an external installer opened Firefox and opened a new tab pointing directly to the XPI installer. After discussion with the SUMO team, we now realize that this isn't clear enough for our users. Secondly, we're making it clear that we're not okay with installers placing information on top of the opt-in screen. This was becoming a trend in application installers and we hadn't taken a clear position as to whether this was allowed or not.
However, we're not ignoring the reasons for which many add-on developers do this. We understand that the opt-in screen needs improvement, and we're committed to making it better. Feel free to comment below or get in touch with us through our other contact channels. Let us know your concerns and how you think we can improve the install flow.
I updated the Add-on Guidelines draft page to reflect this policy update.