Over the past couple months, we've made a number of improvements to the Firefox support forums. Here's a quick overview of the many changes we've made. We'd like you to try them out and then tell us what you think.

New Ask a Question form:
The Ask a Question form for the forum got a complete new overhaul with categories and more detailed questions. We also added better instructions for listing extensions and a more user-friendly step-by-step workflow. Hopefully this will greatly improve the information that users provide in the beginning — making it easier to come up with a solution.



Forum list:
We made a number of changes to make the forum listing easier to use.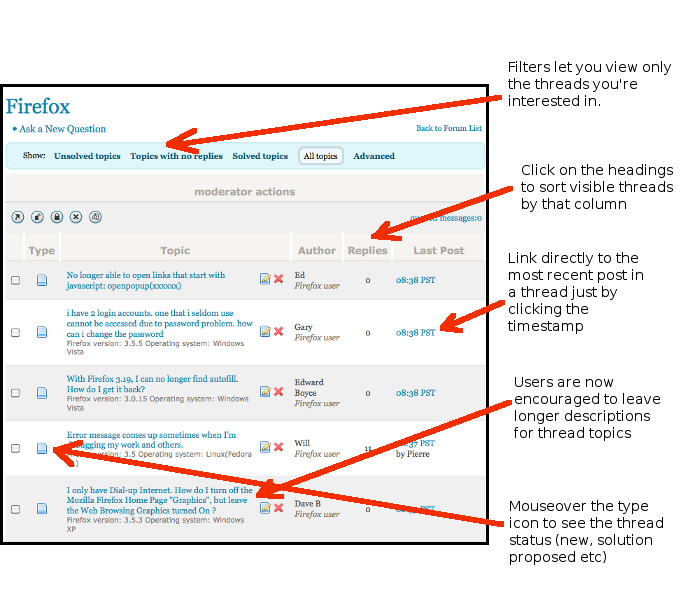 Other changes:
We've made forum URLs easier use and easier to understand.  Instead of http://support.mozilla.com/tiki-view_forum_thread.php?forumId=1&threadId=123465&lang=en-US, you can simply type http://support.mozilla.com/en-US/forum/1/123456
Want to link directly to a post in a long thread? Now you can, just hover over the post, right click on the # and select Copy Link Location.

There's now an RSS feed of all threads so you can follow everything in the forums from the news reader of your choice.

We've added buttons for a couple common moderator actions such as detaching a post to its own thread () and unsolving a solved thread ().
You can now log in when you post a reply.  Just click registered contributor and fill in your details.
We'd like to know what you think of these changes and what else we can do to make the forums easier to use.  It'd especially help if you could take this quick survey.