…a bit delayed, but still on time! Here's the latest and greatest from SUMO, for your reading and watching pleasure.
New arrivals to SUMO – welcome!

Latest SUMO Community meeting video

Our latest meeting was an hour-long training/Q&A session about Firefox Hello. Watch the video to learn more:
If you want to comment on the video or ask questions regarding the training, please do so in this forum thread. You can find the notes and questions asked and answered here.
Also, please remember that you're always invited to contribute topics to our Monday meetings! To do so, please start a thread in the SUMO Community Discussions section of the forum, so all members of the community are able to learn about it and participate.
Forum 2.0: Keep the Feedback Coming!

We are still looking for your feedback on the forum redesign. Thanks to all those who already took a look at the new filters and left their comments in the forum thread. There's a new version available as a preview here and you can let the SUMO devs know what you think on this bug.
Thunderbird Summit Update
Roland attended the Thunderbird Summit and brought back a slew of updates. The most important outcome of the summit is the election of the Thunderbird Council, consisting of seven members. You can read more about the Summit on this wiki page.
Shout-out time: Locasprinters in Paris get the FxOS KB to 100%!

Last weekend, the dedicated and determined localizers in France met in Paris for a Locasprint (it means "let's localize everything we can!" in French, really!). They worked hard on a variety of things, including the Firefox OS KB, with amazing results. You can read more about the Locasprint (part deux) in this blog post, and I'll just drop this screenshot here. Congrats and merci beaucoup!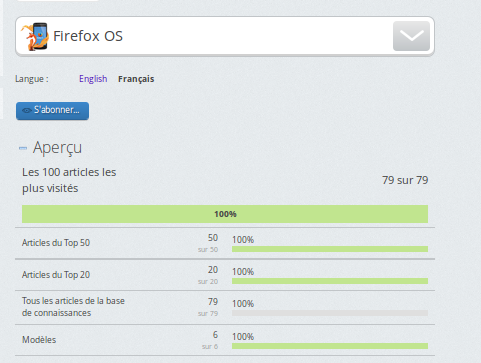 In the meantime, the Mozilla Bangladesh community is not letting go and pushing for a 100% Bengali KB. Go, Bangladesh L10ns!
Regular Mobile Meetings

Starting this month, the mobile meeting is taking place on the last Wednesday of each month, at 10:00 PST (18:00 GMT). For the weekly Firefox OS and Firefox for Android updates, keep following the Community Meetings on Mondays.

On a final note – don't forget that MozFest 2014 is taking place this weekend in London! Not in London? Not a problem – you can still participate remotely. SUMO will be delivering a session on localizing Webmaker support tomorrow. Here's a snapshot from the place itself: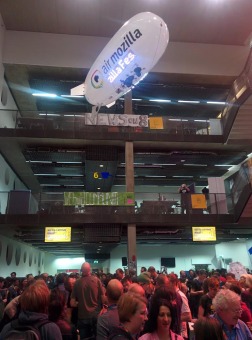 More news coming your way next week – have a great weekend!