Editor's note:  Cross-posted from Chelsea Novak's Blog.
After a great Mozilla Creative Collective design challenge and vote, we have the Mozilla 2010 T-shirt! Designed by Mozilla community member foxyboy, this shirt cannot be bought in stores and is only available to Mozilla donors.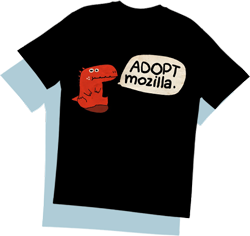 So how do you get it? Contribute $75 or more to the Open Web Fund. Every dollar you donate will support a Mozilla Drumbeat project.
You can help us support these amazing Drumbeat projects and wear your love for the open web on your sleeve. Or on your chest. It is a T-shirt, after all.
PS. This program has been live for a little while now, but because of some upstream technology issues we haven't been able to process donations very well. If you've tried to donate before and were having a less than awesome experience, please try again.