Written with Diane Loviglio.
Middle class Brazilians get their phones from multiple sources:
Personal Networks
Stores
Black Market
Surprisingly, stores were not the number one way these people got their phones, personal networks were.  People use their personal networks to get phones for cheap or free – especially if they don't need the latest model.  People often hand down their phones to other members of their family when they get a new model or someone's phone breaks.  People swap phones amongst family & friends when they are unhappy with a phone purchase, need a different model, or some other usage reason.  People gift phones to one another for birthdays and holidays.
Tania got her phone from her dad.  Tania's current phone was a hand-me-down from her father after her previous phone broke. The Samsung was his old phone that he had given to his youngest son (Tania's 6-yr old brother) to play with.
Tomas' mom gave him the pink Samsung phone for Christmas. Tomas didn't like it because it was pink. He and his girlfriend swapped phones, so she now has his pink Samsung and he has her purple LG. Both are happy with their phones.
When purchasing does include a store, it's an appliance store or the black market, not a carrier store.
Every participant in our study discussed shopping in large appliance stores such as Casas Bahia, a Best Buy or Sears equivalent, rather than the carrier stores.  They liked the phones and the pricing in the appliance stores, and they could shop or browse for other items besides phones.  We also heard stories about buying phones in mall kiosks and stores rather than carrier stores.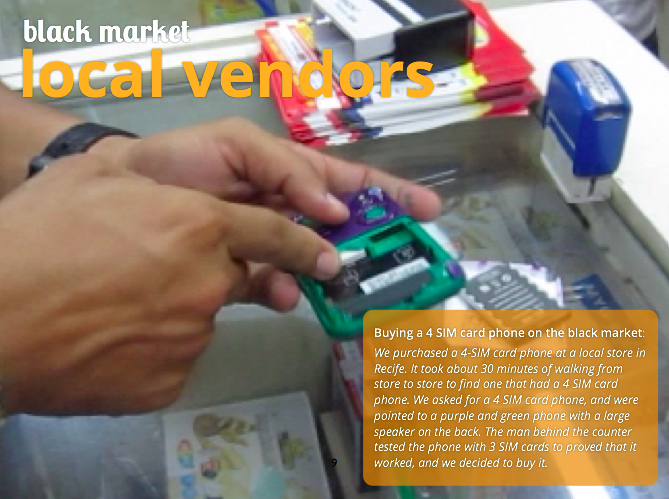 People shop at local vendors and kiosks that sell knock-offs as well as go to flea markets called camelos to get good deals.  Black market stores look and feel like electronics stores in Chinatown in Manhattan.  4 SIM card phones are typically found in black market stores.
We purchased a 4-SIM card phone at a local store in Recife. It took about 30 minutes of walking from store to store to find one that had a 4 SIM card phone. We asked for a 4 SIM card phone, and were pointed to a purple and green phone with a large speaker on the back. The man behind the counter tested the phone with 3 SIM cards to proved that it worked, and we decided to buy it.
The purchasing criteria in ranking order for the middle class is as follows:
Does the phone do what I want/need it to do?
Calls/SMS
Radio
TV
Photos/Video – Internet
Does the phone look good?
Colors: Black, red, blue
Feel "Modern"
Mix reviews on touchscreen vs. keypad
Does the price fit my budget?
Price range is different per person, but the average acceptable price for a modern phone with a touchscreen, internet, etc was R$400
And here's what the purchasing process looks like:
Approach phone counter & two representatives ask to help. One is from Oi and one is from TIM.
Look at phones & talk to the TIM guy. He asks what we're looking for. We're looking for a 2-SIM phone. He recommends a Nokia because you don't have to turn it off to switch SIMs. We say, "Nah, we want a Samsung."
The Oi Lady and TIM Guy explain the different plans and which one is better for what. They play off each other for who is better. We choose one of each as we have 2 SIM slots.
They have the Picker go get the phone from the back. We wait 20 minutes. He comes back empty handed – they don't have it in stock. We choose a different, more expensive model in black and the Picker goes back.
15 minutes later, the Picker comes back with the new phone in red rather than black.  We decide to take it. The store sales guy rings us up.
We finalize the plan choices and the Oi Lady & TIM Guy ring us up separately.
The Oi Lady installs & registers the Oi SIM card.
The TIM guy installs & registers the TIM SIM card.
One last check, and we're all done. The entire process took 1 hour.
C-Class buys phones in appliance stores and kiosks at malls rather than carrier stores, however if they are going to buy at a carrier store, they are most likely to go to the carrier kiosk at the mall. They are more likely to buy a 2+SIM card phone.  This tells us that we need to not only focus on marketing in carrier stores, but that we should be looking to other opportunities to get the phone into the hands of our users.
This is the second in a series of 5 posts; you can read the introductory post here and the post about money strategies in Brazil here.