Written with Diane Loviglio.
This is the last in the 5-part series on the field research in Brazil.  Read the introductory post, the post about money strategies in Brazil, the post on where people get their phones and the post on phone usage.
We went to Brazil to study how the middle class thinks about and uses phones so we could design the best user experience for V1 and plan for V2.  We came back with much more. We identified four motivators that shape how middle classes in emerging markets think about themselves and plan for their futures.  This report explores how Firefox OS can support these motivators to bring about a shift in mobile behaviors for emerging markets.
With a shifting focus comes a redefinition of behaviors. Those behaviors fall into three categories:
Core existing behaviors heavily engrained into daily actions
New behaviors people are open to adopting if it moves them towards their goals
Aspire long-term goals people want to achieve
Enrique uses his aunt's credit card to make purchases for his home, whcih is a good example of a core behavior.  He says, "after having paid my fan and my sofa off, I set out to dip into some savings. I talked to my aunt, and with most things I buy, I use my aunt's credit card. I gave her a down payment and then I financed the rest on the card. Most of my things were bought with her credit card because her credit limit is higher."
Rosa is a good example of a new behavior.  She bought health insurance for her kids, she says says it's "…expensive, but I'm not willing to give it up in order to get something for the house."  She wants to make sure they are taken care of when she is not around anymore.
Hector says, "Even though I'm building a house now, I still dream of a high rise apartment for my family. It would be through small steps, you know. One step at a time. I will save some money and sell some stuff, but one day I believe I'll get there. Maybe 20 or 30 years from now, I don't know. I will work hard a lot and sweat to get there."  This is very much an aspire behavior; he's planning on achieving long term goals during his life time.
The process by which emerging markets are modifying old behaviors and adopting new ones in response to socio-economic movement is what we're calling the climb.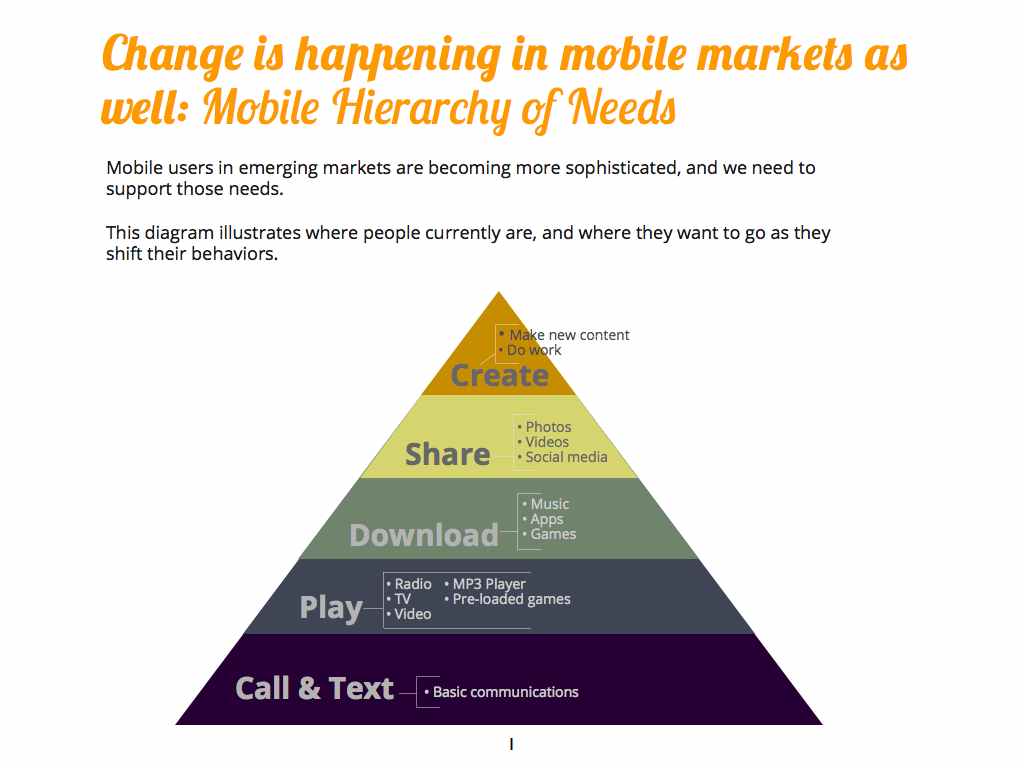 Mobile users in emerging markets are becoming more sophisticated and we need to support those needs.  Today the common mobile behaviors are calling and texting for basic communication and listening to the radio and their MP3 players; watching TV and videos; and playing games.  But the real opportunity is in the download and share parts of the hierarchy of needs.
We need to understand how to best support existing (core) behaviors, help create new behaviors in the shift phase, and provide the desired future behaviors.  We can do this by designing with the four motivators in mind.
The four emerging market motivators are
Provide a better life for my children
Gain independence
Leave or extend a legacy
Moving up the socio-economic ladder
Provide a better life for my children
Parents have money and time to provide "extras," and they are making sure their children have leisure time – two things that may not have been plentiful in their childhoods. Parents are also focusing on their children's futures by planning for unforeseen situations. Planning ahead is a new behavior for this group.
Gain Independence
People define independence differently, but there are a few consistent themes:
Cars/Motorbikes = freedom from public transit
Internet at home = ability to get online whenever you want and stay on as long as you want
Cable/Dish = wide range of news and entertainment from around the world
Leave or extend a legacy
Adult children are using extra money and actively planning large purchases, to fulfill parents' dreams such as owning a specific refrigerator. Adult children want to extend their parents' legacies as well as create their own for their children.

Move up the socio-economic ladder
People have a huge sense of pride for all they've accomplished, and are extremely positive about their futures. They expect to "work hard and sweat" to achieve their dreams, but believe it will happen in their lifetimes. People are realistic, however. They know it will take time to accomplish their goals.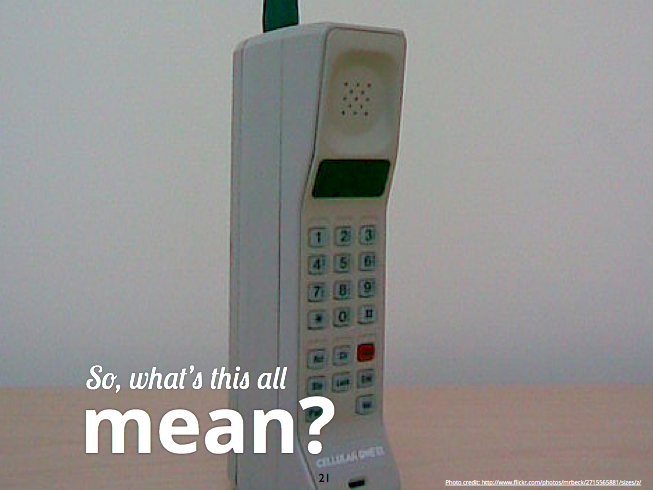 So what does this all mean?
In order to ensure our relevancy across the entire "climb" process because we are supporting all types of behaviors whether core or aspirational, we need to develop and design with the motivators in mind.