When Designer Experience is Trumped by
In Market User Validation Testing.
With our extremely short time frame on design for v.1.0, we had a good idea what metaphors needed to be covered in the action icons. Beyond the visual design (post coming soon), our focus was to simple, have a few contextual metaphors rather than very specific metaphors (icons) for each action. The reason for this was to reduce the learning curve and minimize the amount of metaphors we needed to create. We opted not use text labels under icons due to the lower resolution shipping screen which would render these unreadable.
We felt strongly that the metaphor to create or add new content should be a "+" and to edit content should a pencil accompanied by an object, like a document. For a North American audience this would make sense… after all, search for "edit icon" in a search engine.
However a couple months back our User Research team conducted a few user tests in our Latin America launch markets, and the users had trouble with differentiating between the edit and compose iconography. Part was an interaction issue (location and actions had to be adjusted), but we needed to add variety and modify some of our metaphors. Leaving us a couple weeks before our gold build to make these changes, we had to scramble. We decided to change the edit icons to text strings for many reasons, most importantly, for clarity however to due to technical constraints this was not possible. We proceeded by modifying the metaphors instead, the pencil became the universal"edit" metaphor and we needed to add a few more support metaphors like "picture" and "contact". And special cases like entering the email's list multi-edit mode does not contain a pencil at all, since we didn't want the user to confuse this with an email compose action.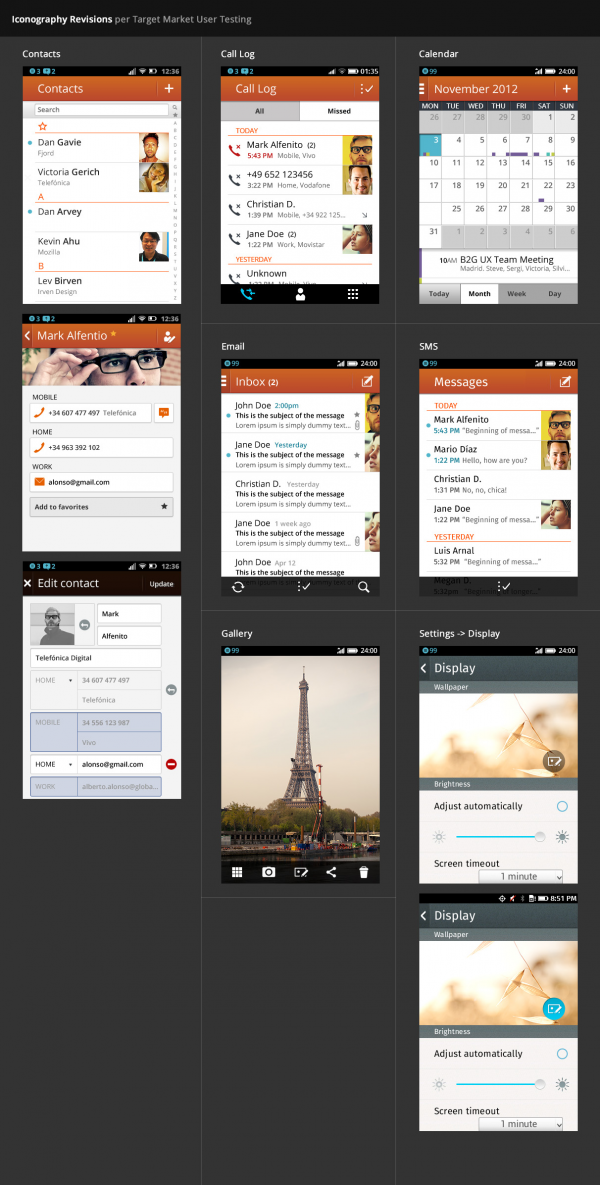 The Future.
There will be more tweaks to the iconography as we roll out updates. But this made me also want to rethink the problem. We still want to reduce the amount for unique visual metaphors for clarity and scale considerations but still the flexibility for a wide variety of icons. After having a few chats with different designers this concept has a lot of potential and should be executable (on a bigger than 3.5" screen) on future devices.
The icon is the noun and the label is the verb. Thoughts?